Wet room shower - Begin with an idea

You obviously like the concept of the wet room shower, now you must examine your options.

Will your shower area be in a corner, an alcove or mid-wall?

Great! With the easy bit decided we can move on to the more technical stuff.
Wet room shower drainage:
Probably the biggest single consideration you face is how to get the waste water away from the shower area. Undoubtedly there will be a solution, but cost can become a significant factor the more difficult the task becomes. The cheapest and simplest scenario is when waste water can drain away unaided - this is to say under gravity. Occasionally, conditions dictate otherwise. If for example the drain into which the waste water must flow is higher than the shower floor then it is likely that a pumped solution will prove necessary. For pumped options it might be easier to call for advice. It is important to establish the potential flow rate of your shower so that a suitable drain can be selected to handle that amount of water. If the drain can't cope you risk a flood.
To explain:
By its nature, a wet room shower has level entry. This is to say the shower area and surrounding floor are at the same level. Consequently, if you wish to drain the waste water under normal gravity conditions the waste pipework needs to run beneath the shower area and visible floor level. This may or may not present issues depending on floor construction and relative height of the waste pipework to the main drain.
Arguably, the floor type that normally presents the least problems will be constructed of timber floorboard on joists. This will certainly be the case if retro-fitting to an existing floor. This type of floor construction naturally offers voids in which pipework can run. By replacing a section of floor with your chosen wet room deck, the floor now inherits the correct shape, sloping gently towards the waste outlet which in turn feeds into a trap positioned below the deck within the floor void. Providing your pipework maintains a positive fall* water simply runs away to the main drainage system.
(*When a positive fall is unachievable there are pumped solutions available. Please call for information.)
Click here to see the range of wet room shower floor formers suitable for use with timber floors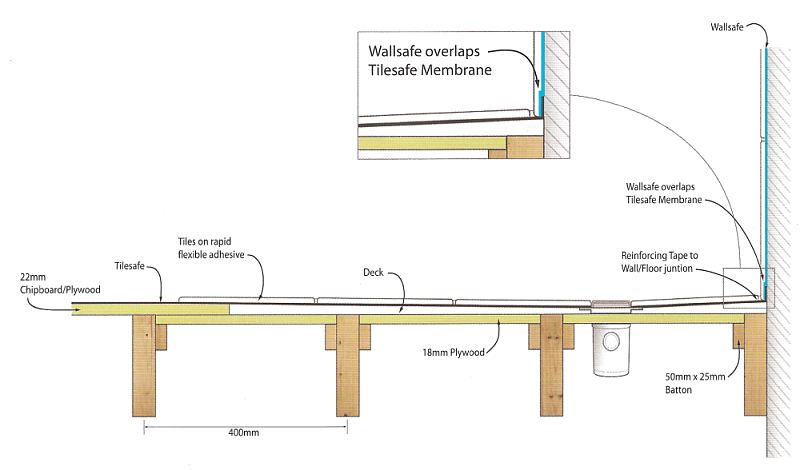 A wet room shower on a solid screed floor:
These can present a slightly more complex installation process with new installations, or require a bit of tedious excavation when trying to install to an existing solid floor.
Having understood that drainage pipework must go below the height of the shower floor you will appreciate that with this type of installation the pipework must run through what is (or will be) a solid floor. If you have the luxury of planning your job before the floor is constructed you can easily make provision for the trap and drainage pipework before any concrete or screed is laid. If you are seeking to create a wet room shower in an area that has an existing solid floor you must appreciate that a certain amount of excavation will be necessary. The amount of excavation will be dependent on factors such as distance to soil pipe, the type of waste and the type of wet room floor former you choose to use.
(When a positive fall is unachievable there are pumped solutions available, some of which require minimal excavation. Please call for information.)
Click here to see the range of wet room shower floor formers suitable for use with solid floors

Type of waste outlet and trap for wet room shower floors:

In the main there are essentially three shapes of waste gully - Round, Square or Linear.

Tiled floors normally utilise the square or linear type - appearing in the floor as a small square grill or a long narrow slot through which (or around which - depending on model) the water will disappear from your shower floor.

A round waste outlet is more commonly used when vinyl is the preferred floor covering. The method of sealing the floor covering to the waste trap differs according to your choice (tile or vinyl). For this reason it is imperative you state your intention when placing an order so the correct trap type can be supplied. A trap designed for a tiled floor is quite unsuitable for use with vinyl and visa versa.

A waste gully is included with a wet room floor formers (tray type) or can be purchased separately for screed floors. Click here to see each range.

(If a positive fall is unachievable on the waste pipe under the floor there are pumped solutions available. Please call for information.)
Advantages and drawbacks for tiling a wet room shower floor: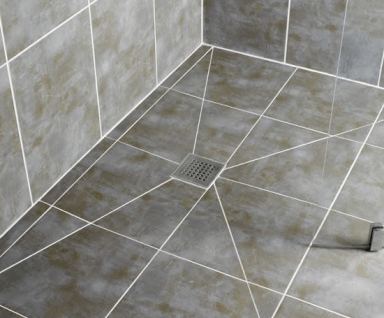 There are subtle considerations with regard to your choice of waste shape when it comes to tiling.
For example, a deck with a fall towards a square drain has four slopes converging in the middle. Smaller 'mosaic' type tiles lend themselves to the multiple facets of such a deck and tend to take up the intricacies of such a shape without the complex angular cuts that a large tile requires. This is not to say that a large tile cannot be used. (Picture right illustrates the cuts required when using large tiles)
The Linear style deck (like the Novellini Duo deck or the Impey Linear deck) reduces the number of slopes. It is possible (depending on product type) to choose a linear drain with a slope from either side (2 slopes) or by positioning the linear drain adjacent to the wall (as with the Novellini Linear Wall for a screed floor) to have a single slope towards the gully. It is worth noting however that there is always a compromise.
A four sided slope (as with the Novellini Quattro Deck or the Impey Aquadec) blends seamlessly with the surrounding floor. Whereas the linear type drain (such as Novellini Duo Deck, Linear floor drain or the Aquadec Linear 2) all require a small trim strip along each edge as the slope of the shower area and the surrounding floor levels diverge. It is simply a matter of taste and practicality. Each and every type look superb when installed.
Warming a wet room floor: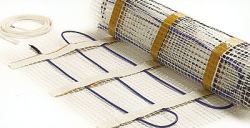 As beautiful as a tiled floor might be, you cannot escape the fact that tiles are cold to walk on.
This can be easily addressed by incorporating 'under tile heating' but this must be done before the floor is tiled.
Warming the floor not only makes the floor a delight to walk on with bare feet, it changes the ambience of your shower room. A warm floor also dries more efficiently, making it safe from the risk of slipping and preventing bacterial growth.
Aquamat undertile heating kits
Ensuring your wet room shower area remains watertight: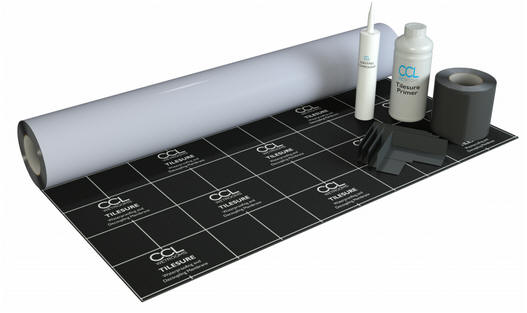 We have mentioned most of the considerations, but the single biggest worry with a wet room shower is ensuring it is watertight. No matter how wonderful it looks, if it leaks you will regret the day you embarked on your enterprise. Happily, with the advent of waterproof tanking systems leaky wet room showers are a thing of the past.
By incorporating an barrier that is impermeable to water behind the tiles you prevent the ingress of moisture into the fabric of the building, hence preventing dampness.
Wet room shower screens
Shower screens are popular with some and not with others. The debate centres on whether having created continuity in the floor throughout the room you should section an area with glass. A kind of paradox.
In practice you may find it desirable to contain overspray from soaking the rest of the room. The minimalistic nature of wet room shower screens goes some way towards maintaining that 'open' feel anyway.
Wet room shower screens differ subtly from shower enclosure screens as they tend not to have rails across the bottom of openings. With no need for doors there is no need for runners, hence nothing to step over.
Some wet room screens are designed to stand away from the floor slightly. Supported by a small foot, the water drips off the bottom edge of the glass and runs back towards the gully.
Variants of wet rooms shower screens include corner, alcove and mid-wall models. Privacy panel frosted glass is also available if additional privacy is preferred. See the range
A few finishing touches for your wet room shower

Although referred to as 'final touches' the type of shower equipment you intend to use and the wall coverings (tiles or waterproof panelling) should form part of your considerations long before you begin your installation begins.

Tiles size and shower type will have a material effect on installation so leave nothing to chance. A well planned job will install with the minimum effort and inconvenience.

This guide does not claim to be definitive but has hopefully given you plenty to ponder. Plan your job thoroughly and the installation should go smoothly, leaving you with a wet room shower to be proud of for many years.

Good luck!
You are always welcome to call and discuss any aspect of your wet room shower that may still be concerning you.
Orders for wet room shower equipment can also be placed by telephone if you prefer.