Home
Up
Sizing a wet room former
Aquadec EasyFit
Linear 2 Wet Room floor former
Linear 3 - Wet Room floor former
Linear 4 Wet room floor flormer
Aqua-Dec wet room floor
Aqua Grade wet room floor
Novellini DUO floor deck
Novellini Quattro floor deck
Solid floor Linear shower drain
Novellini DUO wet room shower floor deck

---

Novellini wet room shower floor former with linear waste outlet
The DUO Deck wet room shower floor former provides a gentle preformed slope from two directions towards a linear style waste outlet and is suitable for a timber floor.

A perfect wet room shower can be created in conjunction with wall and floor waterproof tanking kits that ensure your installation remains watertight for many years to come.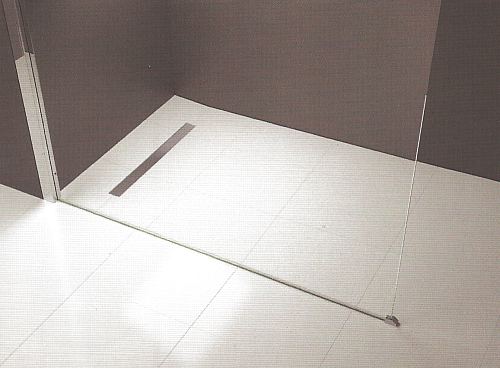 If you wish to use large tiles a Novellini Duo Deck minimises the number of cuts that can prove tricky on other types of wet room floor former.
Two way fall is suited to large tiles
Duo Deck is easily trimmed
Lifetime guarantee
22mm thickness
Choose from 9 preformed sizes
Flow rate up to a massive 41 l/min
Wet room floor construction
To view a typical cross-section of a timber floor installation using a Novellini wet room floor deck in conjunction with Tilesafe (waterproof floor membrane) and Wallsafe (waterproof liquid wall membrane) Click Here
NOVELLINI DUO DECK wet room shower floor former kit sizes
Novellini DUO Deck 1

Order reference code

DUOKIT 1

Overall Dimensions
900 x 900

Price includes linear waste outlet, trap and stainless grill G1.

Grill may be upgraded to G3 type with inset tiling rebate (please see below)

Additional traps can be utilised to increase the flow handling capacity of the linear waste. (please see below)

Price:

£342.58 inc VAT
Novellini DUO Deck 2

Order reference code

DUOKIT 2

Overall Dimensions
1200 x 900

Price includes linear waste outlet, trap and stainless grill G1.

Grill may be upgraded to G3 type with inset tiling rebate (please see below)

Additional traps can be utilised to increase the flow handling capacity of the linear waste. (please see below)

Price:

£405.93 inc VAT
Novellini DUO Deck 3

Order reference code

DUOKIT 3

Overall Dimensions
1200 x 900

Price includes linear waste outlet, trap and stainless grill G1.

Grill may be upgraded to G3 type with inset tiling rebate (please see below)

Additional traps can be utilised to increase the flow handling capacity of the linear waste. (please see below)

Price:

£405.93 inc VAT
Novellini DUO Deck 4

Order reference code

DUOKIT 4

Overall Dimensions
1500 x 900

Price includes linear waste outlet, trap and stainless grill G1.

Grill may be upgraded to G3 type with inset tiling rebate (please see below)

Additional traps can be utilised to increase the flow handling capacity of the linear waste. (please see below)

Price:
£462.44 inc VAT
Novellini DUO Deck 5

Order reference code

DUOKIT 5

Overall Dimensions
1800 x 900

Price includes linear waste outlet, trap and stainless grill G1.

Grill may be upgraded to G3 type with inset tiling rebate (please see below)

Additional traps can be utilised to increase the flow handling capacity of the linear waste. (please see below)

Price:
£483.55 inc VAT
Novellini DUO Deck 6

Order reference code

DUOKIT 6

Overall Dimensions
1800 x 900

Price includes linear waste outlet, trap and stainless grill G1.

Grill may be upgraded to G3 type with inset tiling rebate (please see below)

Additional traps can be utilised to increase the flow handling capacity of the linear waste. (please see below)

Price:
£483.55 inc VAT
Novellini DUO Deck 7

Order reference code

DUOKIT 7

Overall Dimensions
1000 x 1000

Price includes linear waste outlet, trap and stainless grill G1.

Grill may be upgraded to G3 type with inset tiling rebate (please see below)

Additional traps can be utilised to increase the flow handling capacity of the linear waste. (please see below)

Price:
£405.93 inc VAT
Novellini DUO Deck 8

Order reference code

DUOKIT 8

Overall Dimensions
1200 x 1000

Price includes linear waste outlet, trap and stainless grill G1.

Grill may be upgraded to G3 type with inset tiling rebate (please see below)

Additional traps can be utilised to increase the flow handling capacity of the linear waste. (please see below)

Price:
£405.93 inc VAT
Novellini DUO Deck 9

Order reference code

DUOKIT 9

Overall Dimensions
1500 x 1000

Price includes linear waste outlet, trap and stainless grill G1.

Grill may be upgraded to G3 type with inset tiling rebate (please see below)

Additional traps can be utilised to increase the flow handling capacity of the linear waste. (please see below)

Price:
£462.44 inc VAT
Novellini DUO Deck wet room floor waste outlet and grill options

The Duo Deck wet room shower floor former is supplied with a linear waste outlet and trap.

The linear drain has a stainless steel cover running it's length which can be lifted for cleaning purposes. The standard linear drain can handle 25 l/min. It is possible to buy an additional trap that installs below the drain and increases the handling capacity to a massive 41 litres per minute!

The trap has a multi-directional 50mm outlet spigot and the kit is supplied with a 50mm-42mm reducer for connection to UK plastic pipework.

There is an option to change the cover plate to one with a tiling rebate so tile may be inlaid. Please see below.

---

Order reference code
G1

The G1 standard grill is a stainless plate that fits along the length of waste outlet (drain) up to which your wet room shower floor may be tiled.

Unless specified to the contrary this grill will be supplied with your order.

Price:
Included in DUO Deck price

---

Order reference code
G3
The G3 grill incorporates a tiling rebate in to which you may inlay a tile to match the surrounding shower floor. Click here for example

When specified, this grill will be supplied in place of the standard G1 grill. An additional cost applies for this option.

Price:
£56.40 inc VAT

---

Additional waste traps

Order reference code

DUOWA90

Additional traps are available (if required) to enhance the flow handling capability of the linear drain. Simple to install (during initial installation) the additional trap locates underneath the linear drain body adding another route by which waste water can be piped to the soil.

The standard single trap Linear waste will handle 25 litres per minute. (One trap is included with Duo Deck drain kit)

With two waste traps the handling capacity increases to 41 litres per minute! Horizontal or vertical options available.

Price:
£48.00 inc VAT

---

Trim detail

Each deck is supplied with a stainless steel trim detail to make good the small area where the slope of the deck and the surrounding level floor meet. This is usually sufficient when installing the deck in a corner.

If you require additional trim details these can be ordered/purchased separately.

Tile trim (Code / Length)
Price inc VAT
NWFSS1 - 300/600mm
42.00
NWFSS2 - 600/600mm
48.00
NWFSS3 - 300/900mm
48.00
NWFSS4 - 300/1200mm
60.00
NWFSS5 - 300/1500mm
66.00
NWFSS6 - 900/900mm
66.00
NWFSS7 - 300/700mm
48.00
| | |
| --- | --- |
| | |