SUPREME half height shower doors and panels
SUPREME Shower doors are regarded within the industry to be a product of superior quality.
Thoughtful design and careful styling has created a range of half height shower doors and panels that will adorn your bathing area with a user-friendly system.
SUPREME shower doors and screens are robust enough to withstand the rigours of commercial use without looking institutional.
Ergonomically Superior half height shower doors
The clever lifting hinges and panel locking handles on the multi-panel versions make the SUPREME simple and easy to operate. By pushing gently on the lever operated hinge the door lifts effortlessly raising the bottom seal for zero friction allowing the door to swing easily. Lean gently on the door and it lowers it again to re-engage the waterproof seal.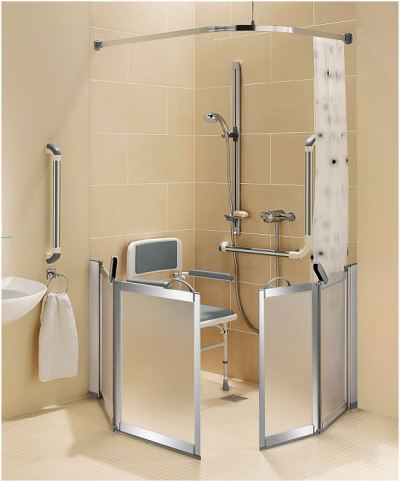 SUPREME half-height shower screens and doors
Half height shower doors that are strong and light making them easy to operate
Surprisingly rugged construction is achieved without compromising on light weight by the use of aluminium extrusions with shatter proof Perspex flexi-glass semi-opaque panels.
SUPREME doors compatible with low level shower trays and wet room floors
Whether you choose to use a shower tray or wish to enclose an area of wet room floor, SUPREME half-height shower doors are the perfect choice. Equipped with a highly efficient rubber seal along the bottom of the doors, the Elevate range will facilitate carer assistance while keeping the carer and surrounding area protected from overspray.
Low level shower trays
For the purpose of explanation we shall refer to the shower base as a shower tray (even though is could be a wet room floor which we deal with in great detail here). The shower tray sets out the footprint size of the shower area you will create. Shower trays for disabled shower enclosures are typically low profile (some have a ramped edge), offering easy entry and exit (even level access) for wheelchairs and users who find managing steps a problem. To view our extensive range of low level shower trays please click here.
Half height shower doors facilitate carer assistance
When carer assistance is necessary a half height shower door is invaluable to prevent a helper from getting soaked by overspray. Half height doors and semi-opaque panels also offer the bather a degree more privacy than a curtain and minimise the claustrophobic effect of tall panels when seated. With the simple addition of a half-curtain the upper section can of course be closed off as required. There are numerous configurations of half height shower doors and panels to accommodate almost all situations. An extensive range of half height door and panel configurations are offered below, although bespoke sizes and configurations can be manufactured.