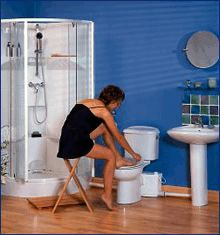 Macerator pump for an en-suite shower room
Sanipro (Ref No 1006) is an ideal way to install an en-suite shower room, enabling, for example, a large bedroom to be improved with en-suite facilities.

Sanipro enables a WC, shower and wash basin to be installed almost anywhere. It is easy and economical to install and can be concealed behind a demountable panel to give access if required.

The Sanipro pumps waste away through 22mm pipes up to 5 metres vertically or up to 100 metres horizontally or a lesser combination of both.

As with all Saniflo products, the Sanipro is backed by the Saniflo Two Year Guarantee of Quality.
£440.69 inc VAT