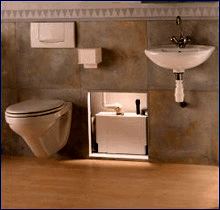 A unique small-bore unit for suspended and back-to-wall pans
Sanipack, (Ref No 1052) is specially designed to enable the complete concealment of pipework with back-to-wall and wall-hung sanitaryware.

The Sanipack unit is designed for use in built-in bathroom units.

Extra slim Sanipack will take waste from a WC, and waste water from a shower and wash basin, thus enabling a complete shower room installation to be drained by a single unit and pumped away through 22mm small-bore pipework, vertically up to 4 metres or horizontally up to 40 metres or a lesser combination of both.