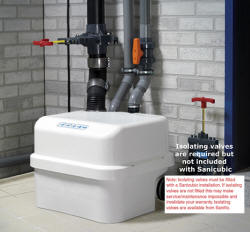 The Sanicubic has the power to deal with waste water from multiple outlets.
It can also be used with a wide variety of appliances.
Pump for discharge of waste from multiple WC's and other waste water producing appliances
Pumps waste away through 50mm pipework.
Pumps up to 11m vertically to 100m horizontally or a lesser combination of vertical x horizontal
Inlet diameter 110mm for WC waste, 40mm for waste water
Handles waste water of up to 70ºC for short periods
Dual motors for absolute reliability and power
Two alarms – one unit mounted, one remote
Power supply 220-240V/50Hz
£1425.59 inc VAT
Note: Isolating Valves must be fitted with a SaniCubic installation. If isolating vales are not used, this may make service/maintenance impossible and invalidate your warrantee. Isolating valves are not included with the SaniCubic.

| | |
| --- | --- |
| Sanicubic 2" Isolation Valve | £96.68 |
| Sanicubic 4" Isolation Valve | £114.12 |
| | |
| | |